Auto-Sync
Auto-sync is Cooby's proprietary feature that allows users to automatically log all of their WhatsApp messages into HubSpot.
Once contacts are linked, they will have the ability to sync messages (learn more about linking contacts). Any 1-1 or group chats that this contact is a part of will be eligible to be synced to HubSpot.
Auto-sync permission
With the Integration permission turned on, your can configure each member's Auto-sync permission. When Auto-sync permission is on, all chats from linked contacts will be automatically synced to HubSpot. When turned off, none of the chats from linked contacts will be automatically synced.
Note: members will still be able to manually sync partial messages. Learn more about Manual-sync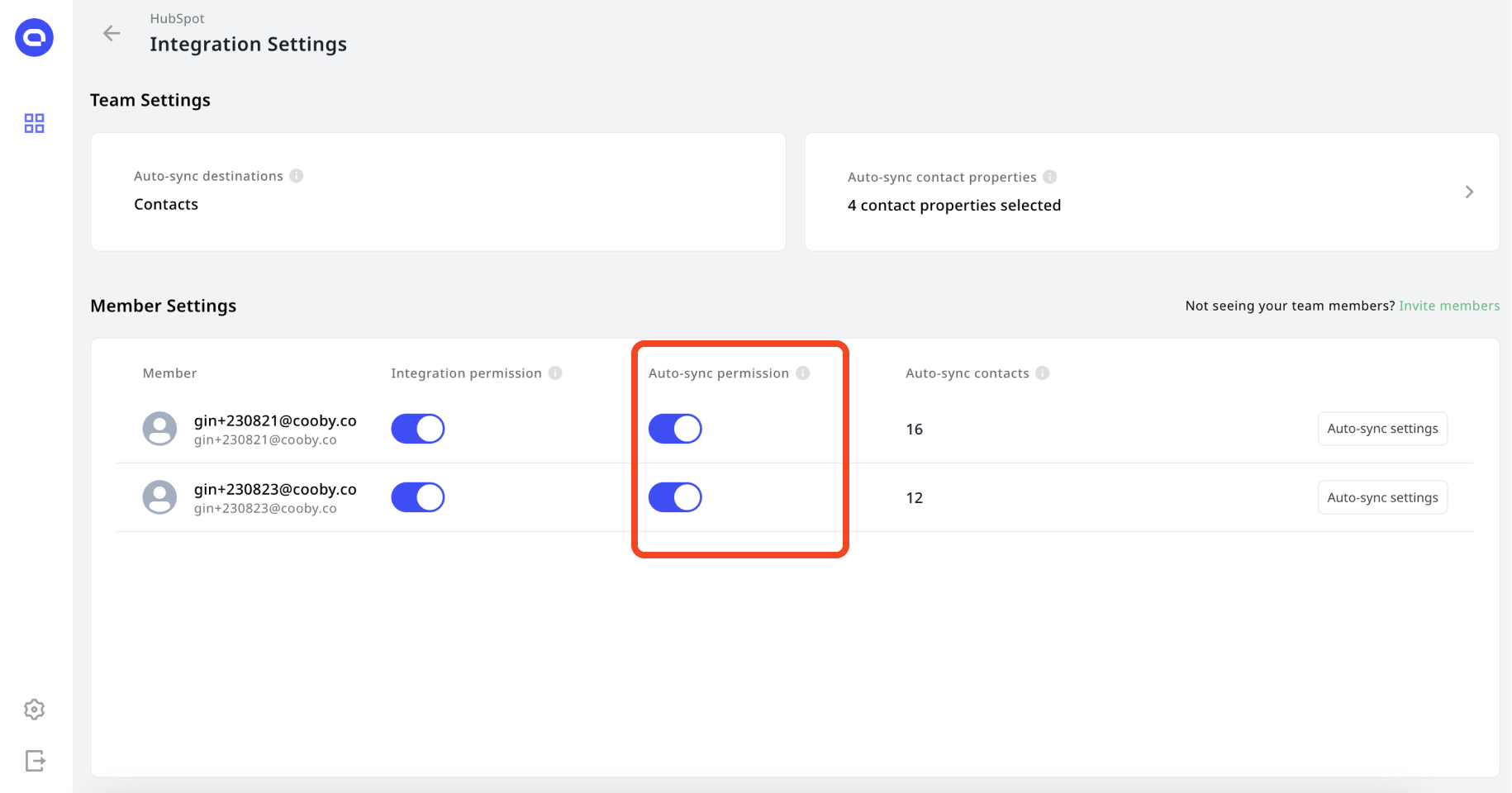 On this page you can also see the number of HubSpot contacts that have Auto-sync enabled for each member.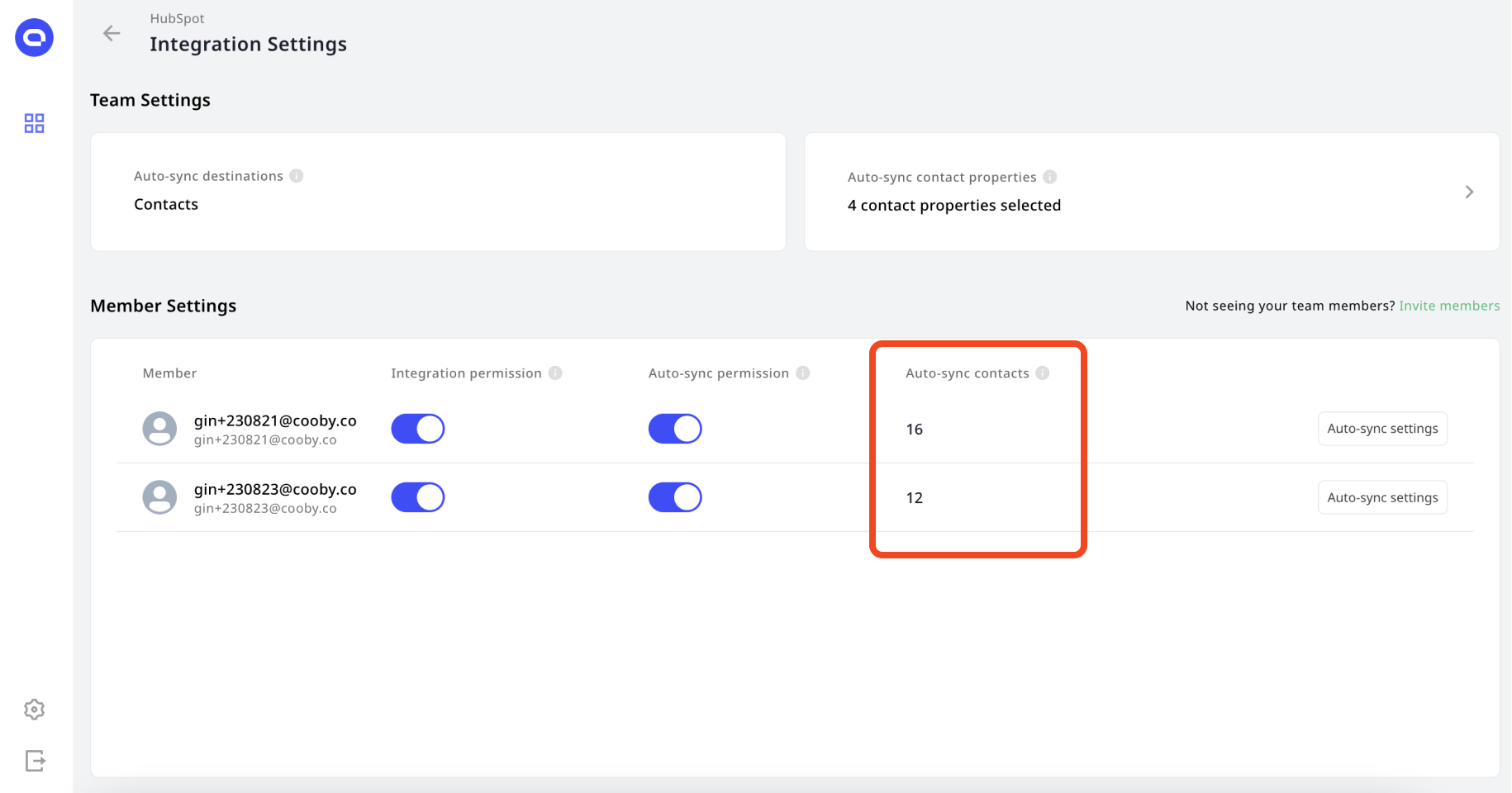 This number is calculated based on three conditions:
The WhatsApp contact has been linked to a HubSpot contact.
The contact has a chat history on WhatsApp Web with this member.
The auto-sync permission is turned on.
Customize Auto-sync
Auto-Sync by default is enabled for all linked HubSpot contacts. But there may be some cases where you don't want to sync a specific contact's chats. Cooby allows you to customize your team's Auto-sync for each of your members in Auto-sync settings.
Admins will have full control for each member. Members will only have control over their own linked contacts.
Click the Auto-sync settings button customize the specific HubSpot contacts that each member is going to Auto-sync to.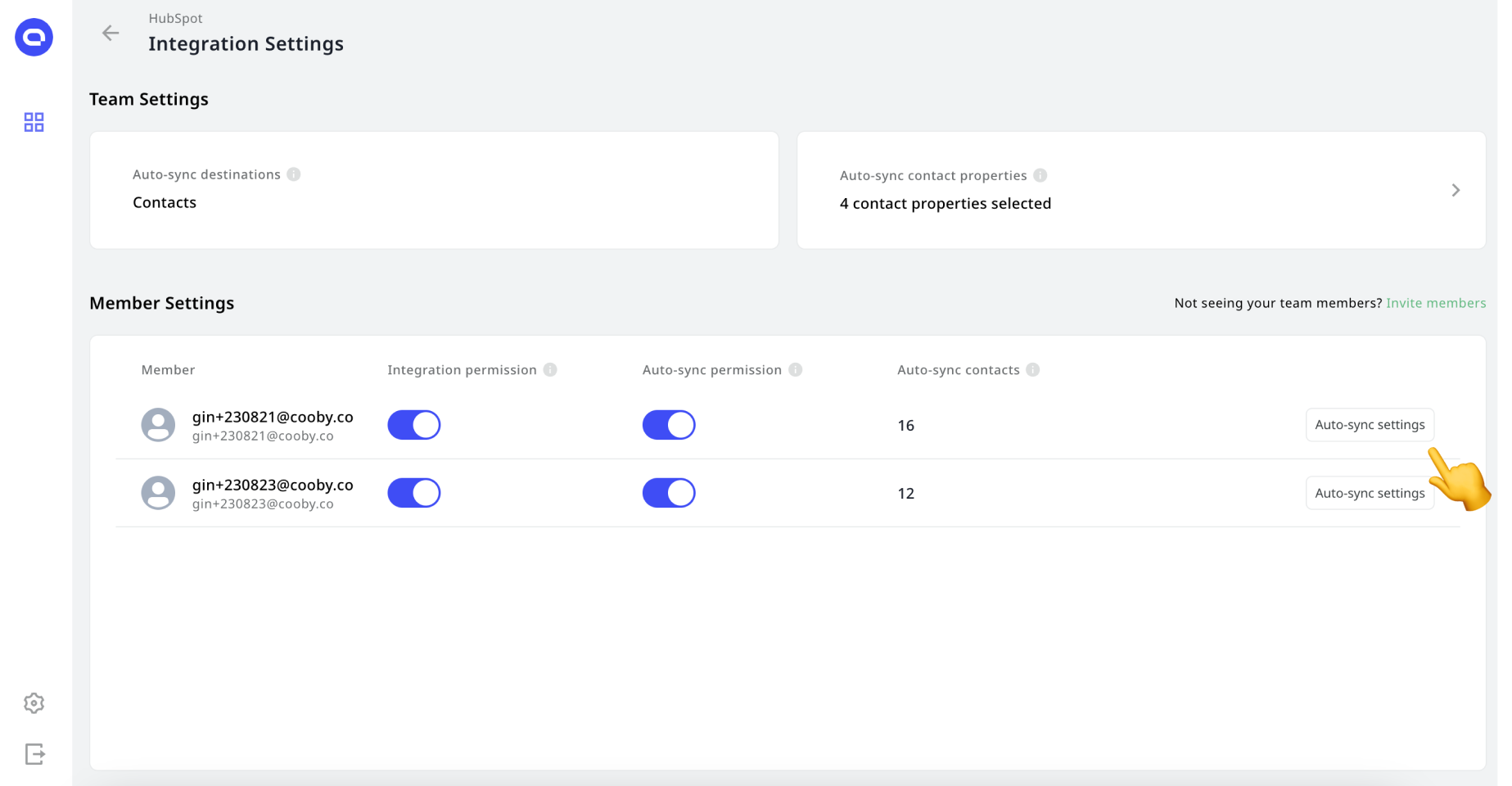 You will have a view of all of your HubSpot contacts in this view. By default all contacts will have Auto-sync enabled, you can search for and turn off Auto-sync for designated HubSpot contacts.
Tip: Use this to exclude friends or family members, or contacts from group chats with two members, in order to prevent duplicate synced messages.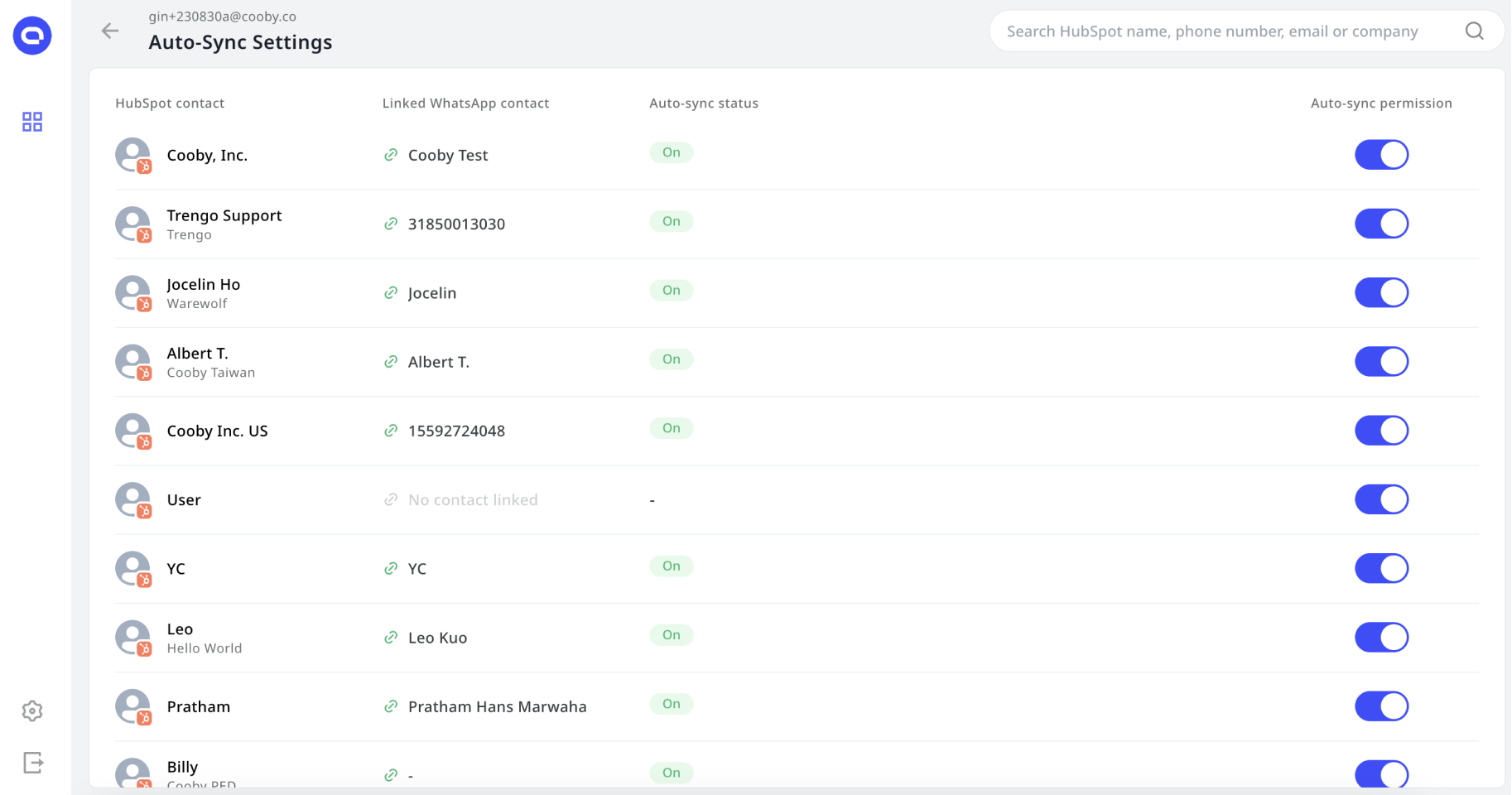 If you click HubSpot icon next to the contact's name, you will open the contact's HubSpot page. To open the WhatsApp chat with the linked contact, click on the 🔗 icon, you will be redirected to WhatsApp. If you already have an existing conversation with the contact it will open that chat. If you don't have an existing conversation with the contact it will start a new chat with the contact.
Auto-sync status
To know your current sync status, navigate to your HubSpot Sidebar and click on the Sync Status button.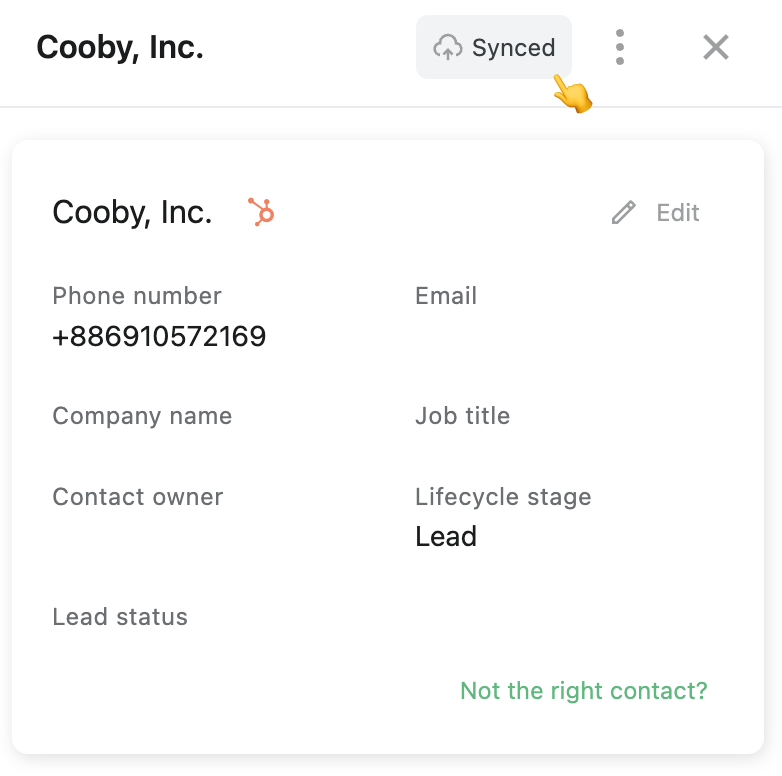 A popover will appear that shows your current sync status. "Sync complete" means that Cooby has synced your chats to HubSpot.
Note: Messages may occasionally take a couple minutes to show up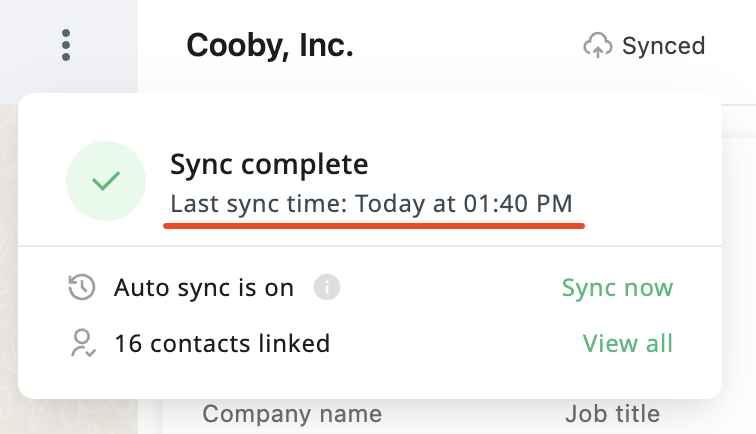 If you wish to sync the current messages immediately, you can click on the Sync now button and your most recent messages will be synced immediately.
Auto-sync frequency
Cooby will attempt to sync messages from your WhatsApp Web every 3 minutes.
If you close WhatsApp Web or your computer goes to sleep syncing will pause. When you open WhatsApp Web again Cooby will continue sync from where it left off the last time you have WhatsApp open.
In some cases when the synced message volume is large, there will be some delays between "Sync complete" and seeing your messages on HubSpot.
If you see this situation prolong more than 1 day kindly reach out to Cooby's WhatsApp support at +14159699946.
Next: Synced Messages (on HubSpot)
---
We hope this document helps you better understand how Cooby works. For any concerns or questions regarding your HubSpot integration, kindly shoot us a WhatsApp message at +14159699946 or email us at support@cooby.co 💜
---
---